So this primal eating malarky is going well. Another cm off the waist and one percent drop in body fat in the last 2 weeks (and I haven't been sticking to it that well!).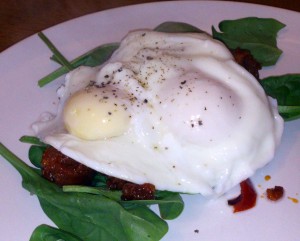 So we have had a few times this chorizo egg wrap for breakfast. However, today we put the heated up chorizo mixture (I made a big batch up on the weekend for such an occasion) on a bed of spinach and then topped with poached eggs. It was awesome. The runny egg with the spicy meat and peppers really reminds me of food in Malaysia (sort of Nasi Lemak flavours). 
We also tried the avocado burgers from the Civilised Caveman website…this did not go so well. Well, it tasted good but the two patties separated when cooked. Perhaps too much filling. Still was nice but not very pleasing to the eye.
Anyway, today I am waiting for the delivery of this months Athleat box. No weird bone marrow this month, instead we have gone for chicken overload. Updates on what we can make out of it to follow.