Most days I am at home around lunch time so it's easy, I can cook eggs, meat, veg etc. But my other half is out most lunch times and it can be tricky have different lunches. Fortunately with a bit of planning on the weekend you can make sure you have enough variety throughout the week. After roasting a chicken (from Athleat) on Sunday I mixed up some chicken breast with spinach, tomatoes, peppers and seasoning. I also used the stock made from the chicken carcass to make a butternut squash soup for later in the week.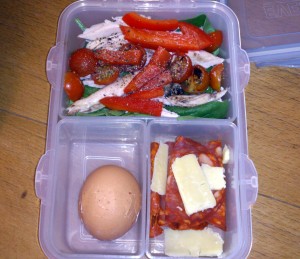 Holly has found that she likes a lunch box with split compartments so you can have a few different things or space for snacks. So today we put a boiled egg in and some chorizo and cheese. All done in about 4 minutes this morning. 
To rewards myself I made some bullet proof coffee as learnt from our friends at Going Paleo. It was really good. I was sceptical as I didn't really enjoy Mark Sisson's egg yolk coffee but this was really good. The only thing is that as there is no milk there is no sweetness at all so you may want to add honey or sugar afterwards. Check out the recipe here.